Chance to freshen up
30 Oct
Where your money goes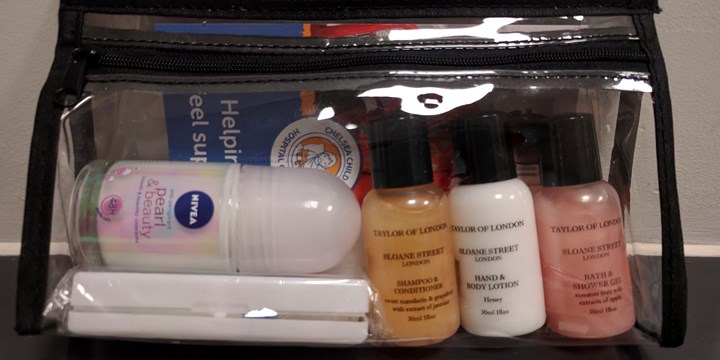 Our charity provides emergency toiletry bags for parents containing all the essentials, including toothbrush, toothpaste, deodorant, shower gel and moisturiser.
"The wash bags are brilliant," says Claire Hibbert, Sister on Mars Ward, the Paediatric Burns Unit at Chelsea Children's Hospital. "When our parents arrive on the ward they have been through a traumatic experience and have normally been in such a rush that they haven't brought anything with them. The wash bags allow them to take some time to themselves and freshen up. It's such a benefit for them and they are always so grateful."
Sarah Chin, Jupiter Ward Manager agrees, "We're really grateful for the toiletry bags. Our nurses give these out to parents whose children have been admitted to the ward via the Emergency Department. Thoughtful touches like this can really help during a stressful time."
One mum whose child was admitted here adds: "My son was suffering from severe stomach pains and vomiting. We arrived at A&E at midnight and were in there until 4am having tests, before being brought up to Jupiter Ward. I hadn't packed anything for myself, so the wash bag made such a difference. It made me feel human again!"