"She pulled the hot tea onto her arm"
25 Apr
Archive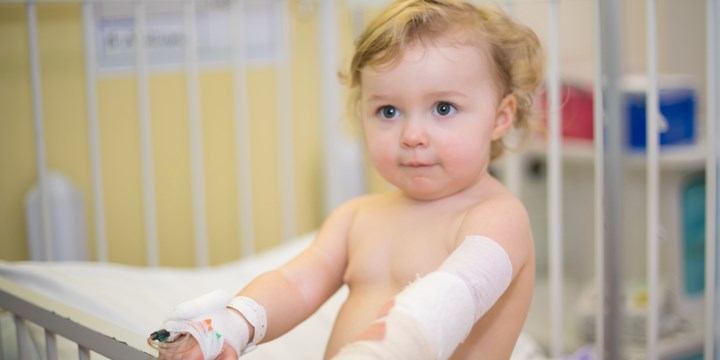 Previously the Chelsea Children's Hospital Charity, we re-launched as The Children's Surgery Foundation in 2019 to reflect the national scope of our work today. The story below is from our days as the Chelsea Children's Hospital Charity.
In our Children's Burns Unit a few weeks ago we met lively toddler Halle and her parents Chris and Becky Spring. Chris told us how little Halle had seriously burned herself at home.
"There was a hot cup of tea on the worktop in the kitchen. Halle, who's 19 months old, reached up and pulled it down on to her arm. She'd never reached up that far before.
"Halle was screaming and clearly in a lot of pain. My wife Becky knew that we should put her arm under cold running water, so we sat her in the bath with the taps on. Her arm was very sore and you could see the skin coming off, so we raced her to our local A&E in Frimley, Hampshire. They put her arm under the tap again and gave her painkillers, then transferred her by ambulance to Chelsea and Westminster because there's a specialist Children's Burns Unit here. Since then we've been in and out every two to three days for dressing changes, but the doctors felt that her arm wasn't healing as well as it should be, and they told us that Halle would need a skin graft.
"Halle had her surgery today – they took some skin from under her bottom and grafted it to her arm. As you can see, she's doing really well and is full of energy! We're going home later today but will be back in several times over the next few weeks for new dressings.
"The Children's Burns Unit here at Chelsea and Westminster has been brilliant. We're so pleased with how things have turned out for Halle and with the fantastic care we've received. Please consider donating to Chelsea Children's Hospital Charity who help buy vital equipment for the hospital to help children like Halle."
Halle is doing really well and has her final appointment at Chelsea this week. In the last month, Becky has raised over £200 for our charity.
Thank you so much and all the best for the future, guys!