Jacob's South African adventure
23 May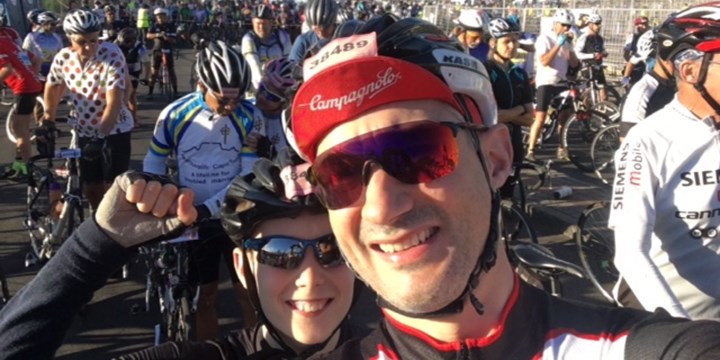 Eleven-year-old Jacob Watson and his dad James have successfully completed the 109km Cape Town Cycle Tour, the world's largest timed cycle race, on a tandem.
Jacob, a pupil at Thomas's Fulham, was fundraising for us because we are his school's chosen charity this year. We're delighted to say that Jacob has raised an incredible £1,232; what an amazing achievement!
Read Jacob's entertaining account of his great adventure below.
"As we loaded into the starting pen I was quite nervous but then the tape went up and we were off. We whizzed down the motorway out of Cape Town with a tailwind, getting up to 70km an hour, then headed east towards the Cape of Good Hope.
"Chapman's Peak was the biggest climb of the day but we had stopped at the bottom for a Coke and managed to get up it, no problem. Just before the final climb we bumped into my friend Luca who was also on a tandem with his dad, which meant a sprint for the last 15km, past the 12 apostles through Camps Bay to the finish.
"Our time in the end was 4 hours 29 minutes, an average speed of about 25km an hour over the 109km. The support was amazing. There were people with cowbells, musicians, and even a guy in a mankini and sunglasses, pedalling an ancient exercise bike, chatting to everyone who rode past and making them laugh.
"The race was hard work and my legs and arms were tired for days afterwards but it was amazing fun. I have come back with lots of stories and I'm really proud to have raised more than £1,200 for the charity."