Saving precious babies
19 Apr
Archive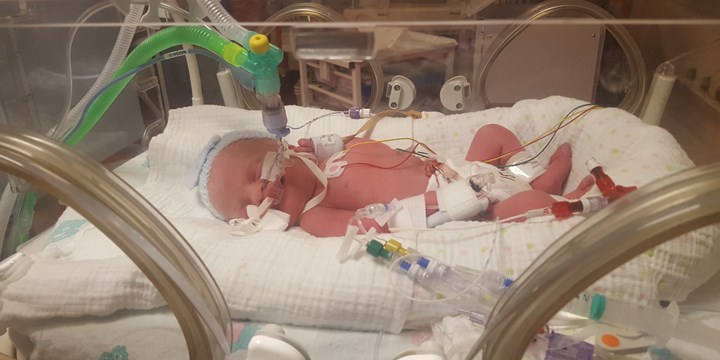 Previously the Chelsea Children's Hospital Charity, we re-launched as The Children's Surgery Foundation in 2019 to reflect the national scope of our work today. The story below is from our days as the Chelsea Children's Hospital Charity.
Mum Dawn Flanigan is raising money for Chelsea Children's Hospital Charity. Here she tells the heartwarming story of her baby Marcus.
"On 23rd October 2016 Marcus was born in our local hospital via emergency C-section. I was only 32 weeks and Marcus weighed just 4lb. Through the night they struggled to keep him alive and he needed emergency surgery. Marcus was then taken by ambulance to the specialist surgical unit at Chelsea and Westminster Hospital.
"The surgical team at Chelsea was amazing. As you can imagine for James and me the whole situation was devastating but the doctors and nurses were so calm and reassuring. Marcus had a condition called Tracheo-Oesophageal Fistula (TOF) and also had a punctured stomach, caused by assisting his breathing immediately after birth.
"It took a five hour operation to fix his stomach, but they couldn't repair the TOF as Marcus again became very ill. We had to wait nine weeks until he was well enough. During this time the nurses in the Neonatal Unit at Chelsea were fantastic and a real support for us both. Marcus took a lot of looking after and needed one of his tubes clearing every 15 minutes. That's a lot of work over nine weeks! The second surgery was a success and during the next four weeks Marcus had to learn to feed from a bottle and grew stronger every day.
"On 23rd January 2017, at exactly three months old, we took Marcus home. It was the best day of our lives. Aimee finally got to meet her little brother whom she had heard so much about. We finally had our little boy and our family was complete.
"Words cannot describe how grateful we are to all the staff at the Neonatal Unit; they saved our little boy's life and do such amazing things every day for so many families. To show our appreciation we are raising money to help save these precious babies."
Dawn's family and friends have already raised over £800. Please help them reach £1000 and save more babies like Marcus by donating to her Just Giving page here.