Ride London success!
30 Jul
Get Involved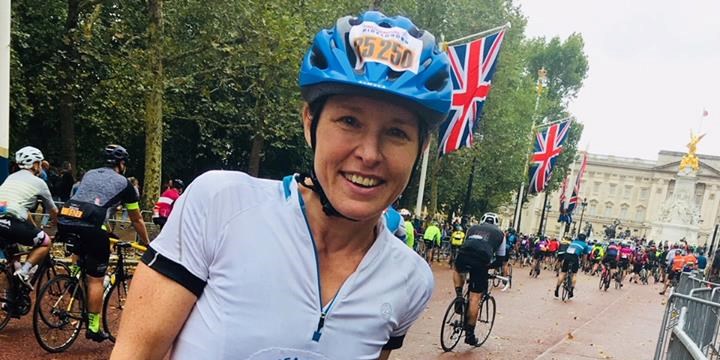 Congratulations to our two fundraisers who completed all 100 miles of the #RideLondon cycle race yesterday, despite the wet and windy conditions.
"I got to the end! I don't think I disgraced us!" said Anne McNee, who is a paediatric orthopaedic physiotherapist at Chelsea and Westminster Hospital. "Geez it was cold and the wind was gale force! I couldn't take any photos during the race because my phone was full of water, it was too cold to stop and my hands wouldn't work anyway with the chill!"
Anne McNee is raising funds to help develop her department, which supports children with cerebral palsy and other conditions. Anne wasn't expecting to get a place, hence her last-minute hand-sewn cycling top. We love your resourcefulness in sewing on our logo, Anne!
Our other rider, Arjan Busch, is a Dutch dad of two. "You could say I'm an 'addicted' race cyclist," he says.
"The RideLondon-Surrey 100 was to me an overwhelming experience. Having a chit chat now and then with fellow riders, the uniqueness of riding London and Surrey, the warm cheers of the crowd, my family who had come over for the weekend and the fact that I am raising money for children's hospital charities made me both feel rich and privileged to be part of this experience."
Charity manager Rebecca McLoughlin said, "Massive congratulations to our riders, we so admire you doing this – and in such horrendous weather conditions. You both have incredible determination. Thank you so much!"
You can support Anne here:
https://mydonate.bt.com/fundraisers/annemcnee
And Arjan here:
https://uk.virginmoneygiving.com/fund…/showROFundraiserPage…