Paralympic star Hannah visits hospital
08 Dec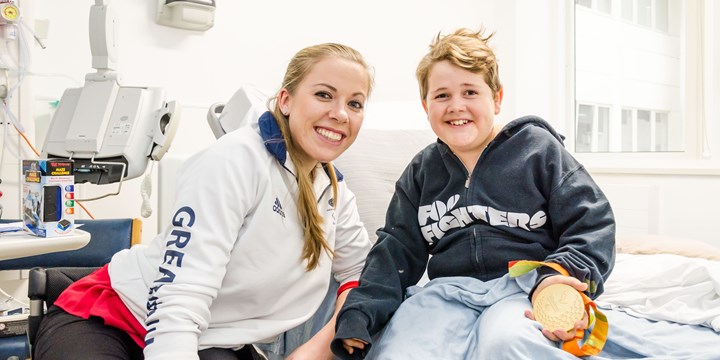 Today, children at Chelsea Children's Hospital got to meet a truly inspirational person - Hannah Cockroft MBE, winner of five Paralympic gold medals.
Wheelchair racer Hannah, star of the London and Rio Paralympic Games, spent several hours chatting to kids and their families as she toured the children's wards.
Incredibly down to earth, funny and warm, 24-year-old Hannah brought a burst of fun and energy to the sick kids in hospital. She brought along one of her gold medals – which she was keeping safe in a fluffy sock - and the children and their families were lucky enough to hold and even wear it. Everyone was astounded by how heavy it was!
Hannah had two heart attacks at birth that left her with serious disabilities. Her parents were told that she would never be able to walk, talk, do anything for herself or live past her teenage years. She set out to prove the predictions wrong and her determination has clearly paid off.
One of the kids asked Hannah what advice she would give to children who'd like to be in the Paralympics themselves one day. Hannah said, "Find what you love and take every opportunity you get. Be prepared to work really hard. I have trained hard for years, but it's worth it. I love what I do and I'm lucky enough to do it every day."
And her most incredible sporting moments so far? "Winning my first Gold in London, and in my last 200m race in Rio when the crowd chanted my name. The most amazing feelings ever!"