Guy Garvey visits hospital
04 Sep
Where your money goes
Get Involved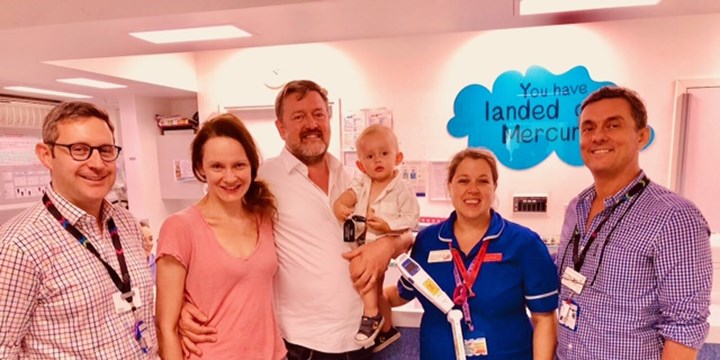 Earlier this year, we were thrilled when Guy Garvey from rock band Elbow gave us the amazing opportunity to fundraise at the band's London concert in The 02. During the gig, Guy encouraged the audience to donate, and our volunteers, who were mainly paediatric surgeons – or 'baby-savers' as Guy called them – were inundated with donations. In that one night we raised an incredible £8,500!
Thanks to this generosity, we were able to buy two new Accuvein vein finders for the children's wards. These hi-tech devices shine an infra-red light on the skin, revealing the hidden blood vessels that lie below the surface, making blood tests and cannula insertion easier and less stressful for children and babies.
Guy Garvey, his wife Rachael Stirling and little boy visited Chelsea Children's Hospital last month and were delighted with the vein finders, shown to them by Clinical Director for Children's Surgical Services, Simon Clarke.
Thanks again to Guy, Elbow and their generous fans!