Better diagnosis for swallowing problems
04 Oct
Archive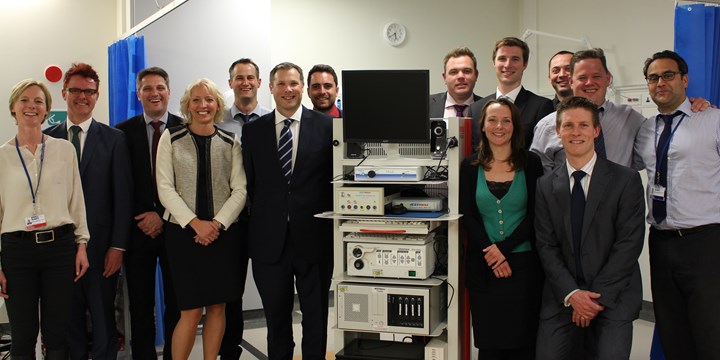 Previously the Chelsea Children's Hospital Charity, we re-launched as The Children's Surgery Foundation in 2019 to reflect the national scope of our work today. The story below is from our days as the Chelsea Children's Hospital Charity.
With the funds raised from our successful Gulp Appeal we bought a digital swallowing workstation which is revolutionising the way babies and children are diagnosed and treated for swallowing problems.
This state-of-the-art equipment offers the most comprehensive insight into a patient's swallowing process currently available in the world. It is the first swallowing station available to children in the UK. The information that clinicians receive will enable quicker diagnosis of patients, and in some cases, prevent babies and children undergoing surgery.

We would like to say a huge thank you to the team of nine cyclists from CBRE who raised over £40,000 for the Gulp Appeal in an incredible 75 hour cycling marathon. Riding from John O'Groats to Land's End, this remarkable team cycled non-stop in rotation, day and night, covering over 300 miles each day. We are completely in awe of their endeavours and are so proud of what they've achieved.
Dr Krishna Soondrum, Consultant Paediatric Gastroenterologist at Chelsea and Westminster Hospital, said,
"We are so thrilled to have this revolutionary equipment and so thankful to Chelsea Children's Hospital Charity and CBRE for the incredible job they have done. The swallowing station will allow us to treat patients, including premature babies, much quicker and in a very safe way. It will also allow us to treat more patients, which is great news knowing the increasing number of babies and children suffering from swallowing problems today."