Vein finders for easier blood tests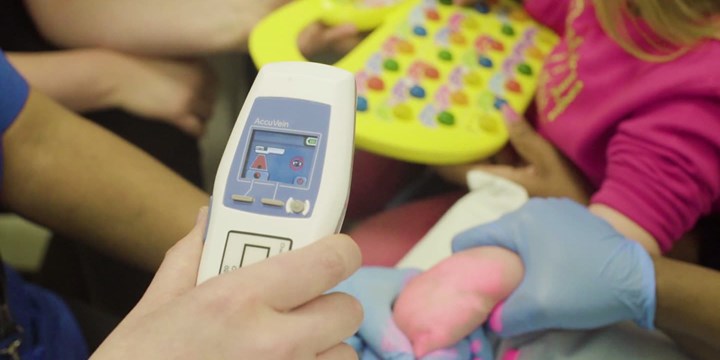 Many children need to undergo a blood test or have a cannula inserted to deliver medication or fluids. This can be a painful and stressful experience for both the patient and their parents: children's veins are often hidden beneath the skin, meaning it can take several attempts to find a suitable vein
But now babies and children at Chelsea and Westminster Hospital have access to three infrared vein finders, bought by the charity for £3,500 each.
The hand-held vein finder device is simple to use and can detect veins up to 10mm beneath the skin via an infrared light. Elliott Leishmann, Senior Staff Nurse in Children's HDU, is grateful for the new device:
"We use it constantly. It means we can insert IV needles more easily without causing distress. In some children suitable veins can be almost impossible to access – previously we've even had to take some children into surgery to insert an IV – but now with the vein finder we can find suitable veins really easily. It's great."
Funds for the vein finders came from donations and fundraisers including Vicky Flowers, a Paediatric Healthcare Assistant at the hospital, who ran the arduous Spartan Sprint race for us. The mud, sweat and tears were worth it, Vicky! Thank you.