Our million-pound surgical robot
Chelsea Children's Hospital is the first and only children's hospital in the UK to acquire a dedicated surgical robot called Pluto. Our charity managed to raise over £1 million to fund it. At the cutting edge of technology, Pluto enables surgeons to operate on children with more precision, leading to less scarring and earlier recovery. We are still raising money for Pluto's instruments, which have to be replaced every 20 uses at a cost of £11,000 each time.
One of the children helped by Pluto is nine-year-old Joe.
"Joe had been to the doctors several times in the span of two years because he'd been violently sick," says mum Vicky. In chronic pain, Joe's condition seriously affected his day to day life; he missed school and had to stop activities he loved including swimming and playing football. "We found out that Joe had a severe obstruction to his kidney and he had to have reconstructive surgery." Paediatric surgeons at Chelsea Children's Hospital decided to use the new surgical robot, Pluto, to carry out the procedure.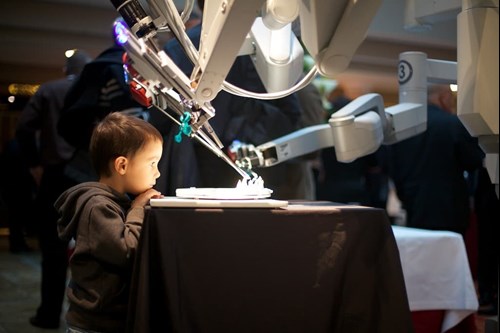 Ms Marie-Klaire Farrugia, Consultant Paediatric Surgeon, says, "We were delighted with the results. Joe has three small scars, required no morphine during or after the procedure and recovered quicker than he would have done with conventional surgical techniques."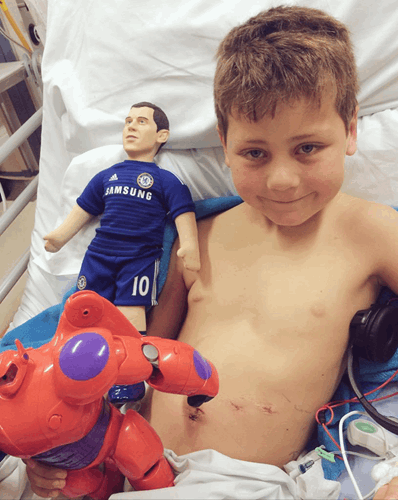 "Since the operation Joe's life has completely transformed," says mum Vicky. "He is now Ruislip Rangers number one goalkeeper! He has never been better. Without all the nurses and doctors and of course Pluto, Joe would still be seriously ill and unable to do the things he loves the most."