Wards' wishlist is granted!
05 Feb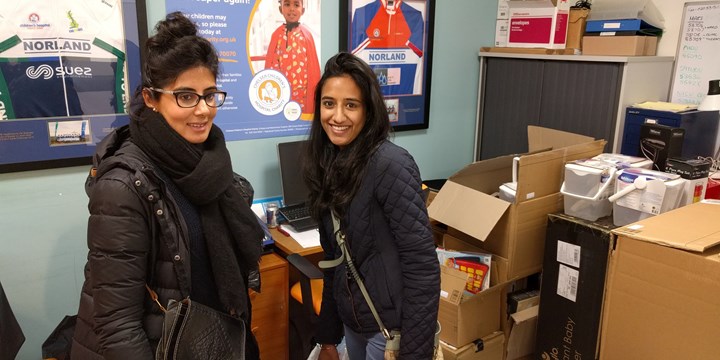 Last week we were delighted to have some very special visitors - Sonali and Harry Boyle, and Sonali's cousin Roshni. Tragically Sonali and Harry lost their little boy Rahul: born prematurely he was cared for in Chelsea Children's Hospital Neonatal Intensive Care Unit (NICU) but died at just 12 days old.
To help turn their grief into something positive, Sonali, Harry and their friends and families have undertaken a year's worth of fundraising in Rahul's name, for our NICU and one in India. The amount they have raised is incredible - more than £100,000!
But this family's generosity knows no bounds. Asking whether they could help with anything else, we told them about the wishlist created by our children's ward managers - items needed for children and their families, not covered by NHS funds. The list included 90 pairs of socks and mittens for babies, 80 hairbrushes, mobile baby baths, 20 bottle sterilisers, 20 pairs of slippers, 20 hairdryers, and 60 mugs and four radios for the parents' rooms.
Last week, Sonali, Roshni and Harry brought every single item on the list to the hospital! Our office is pictured above, overflowing with boxes and boxes of donations! Our ward managers were thrilled. Simone Hunt from Mercury ward said, "We're amazed by the generosity of Sonali, Harry, Roshni and their friends and family. They have donated everything on our wishlist, meaning our children and their families will have a better experience in hospital. Thank you so much."